Fogging, Electrostatic and Disinfectant Cleaning
Fogging, Electrostatic and Deep Clean Services
Fogging and Electrostatic
The ultimate solution to fighting and preventing infection in any environment
Tested to BS EN1276, BS EN13697, BS EN16615

A 99.999% kill rate

Conforms to HSE Biocidal Products Types 1, 2 & 3
Deep Cleans 
Where our dedicated cleaning proffesionals make your workplace the cleanest it's even been
Work surfaces

Floor

Reception areas

Canteens

Toilets

Steam-clean your radiators (front and back and internal cavity area)

Clean window blinds or curtains, and much more
Contact 086 2286888 or our 24HR Helpdesk  1850 25 26 27 or email  sales@ccsfacilities.com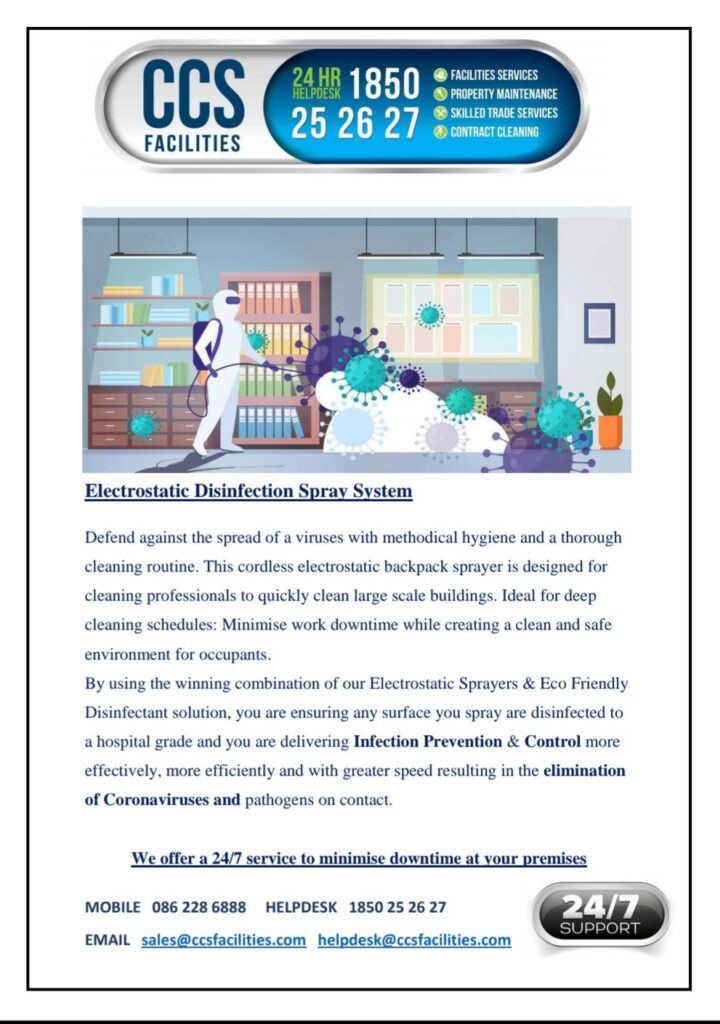 Crystal Contract Services are currently assisting businesses in reopening safely. We can provide business and safety Plans, advice and staff training.
Employers are required to implement measures that will prevent the spread of COVID-19 in the workplace.
All employers must prepare and put systems and controls in place before they reopen their business and workplaces.
The employer must:
Appoint at least one lead worker representative to make sure safety measures are in place and being followed.
Update business and safety plans, including the business COVID-19 Response Plan, the occupational health and safety risk assessment and the safety statement. Include how to deal with a suspected case of COVID-19  in the safety plans and appoint a dedicated manager in charge of dealing with suspected cases.
Develop, consult on, communicate and implement workplace changes or policies.
Send out a pre-return to work form to employees at least 3 days before their return to work. 
Provide COVID-19 induction training for all staff.